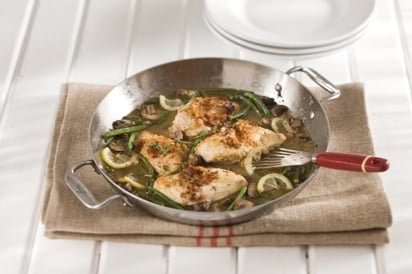 Lemon Chicken with Green Beans and Mushrooms
This one-dish, old-fashioned chicken braise features the sunny flavors of Herbes de Provence.
Herbes de Provence, a sunny combination of rosemary, marjoram, thyme, savory and lavender, brings life to everything from eggs and scalloped potatoes to lamb and chicken.
Ingredients
(12)
1 cup reduced-sodium vegetable or chicken broth

3 tablespoon lemon juice

3 tablespoon white wine or dry vermouth

1 tablespoon all-purpose flour

1/2 teaspoon herbes de Provence

1/2 teaspoon coarse salt

1/8 teaspoon freshly ground black pepper

4 (4- to 5-ounce) boneless, skinless chicken breasts

2 tablespoon dry breadcrumbs

2 tablespoon extra-virgin olive oil

1 pound green beans, trimmed and diagonally cut in half (about 4 cups)

1/2 pound mushrooms, halved or quartered (about 3 cups)
Ingredient Facts and Health Benefits
Discover fascinating facts and health benefits about some of the ingredients in the recipe, including other delicious recipes!
Directions
Whisk broth, lemon juice, wine, flour, herbes de Provence, salt and pepper in a medium bowl.
Lightly coat chicken with breadcrumbs. Heat oil in a large nonstick skillet over medium-high heat. Add chicken and cook until golden brown on both sides, about 5 minutes. Remove to a plate. Add beans and mushrooms to pan and cook, stirring occasionally, until mushrooms are lightly browned, about 5 minutes. Return chicken and any juices to pan. Pour broth mixture over top. Cover and simmer until chicken is thoroughly cooked and vegetables are tender, about 15 minutes.