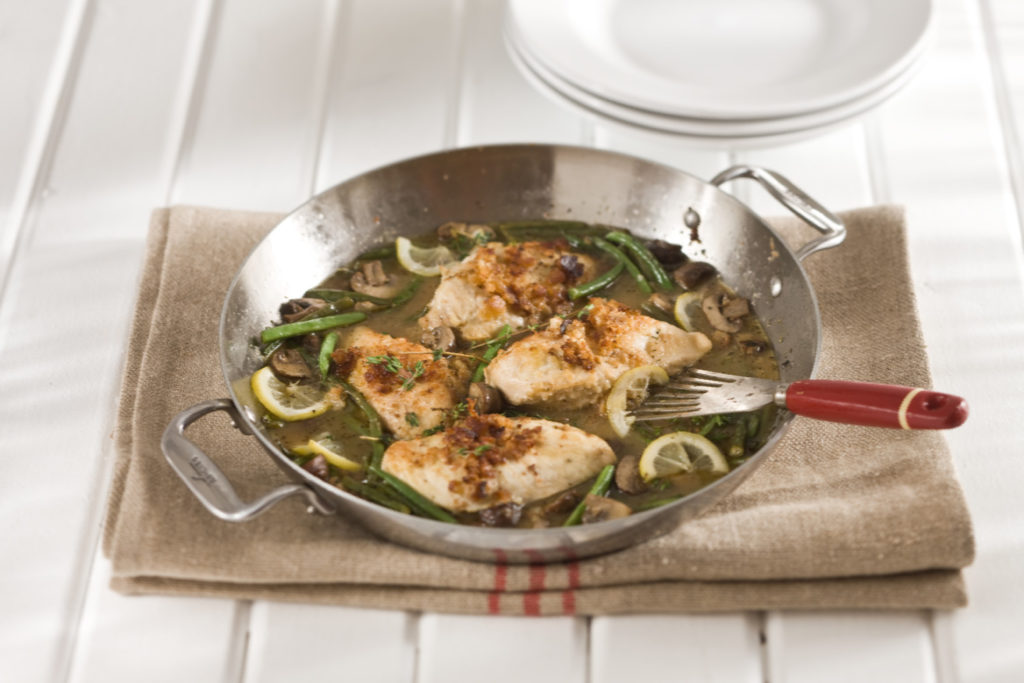 Lemon Chicken with Green Beans and Mushrooms
This one-dish, old-fashioned chicken braise features the sunny flavors of Herbes de Provence.
Herbes de Provence, a sunny combination of rosemary, marjoram, thyme, savory and lavender, brings life to everything from eggs and scalloped potatoes to lamb and chicken.
Ingredients (15)
1 cup Low Sodium Vegetable Broth
or 1 cup Low Sodium Chicken Broth
3 T Fresh Lemon Juice
or 3 T Bottled Lemon Juice
3 T White Wine
or 3 T Dry Vermouth
1 T All Purpose Flour
½ tsp Herbes de Provence
½ tsp Kosher Salt
¼ tsp Freshly Ground Black Pepper
4 3–5oz Boneless, Skinless Chicken Breasts
2 T Plain Dried Breadcrumbs
2 T Extra Virgin Olive Oil
1 lb Green Beans
½ lb Mushrooms
Directions
Whisk broth, lemon juice, wine, flour, herbes de Provence, salt and pepper in a medium bowl.
Lightly coat chicken with breadcrumbs. Heat oil in a large nonstick skillet over medium-high heat. Add chicken and cook until golden brown on both sides, about 5 minutes. Remove to a plate. Add beans and mushrooms to pan and cook, stirring occasionally, until mushrooms are lightly browned, about 5 minutes. Return chicken and any juices to pan. Pour broth mixture over top. Cover and simmer until chicken is thoroughly cooked and vegetables are tender, about 15 minutes.