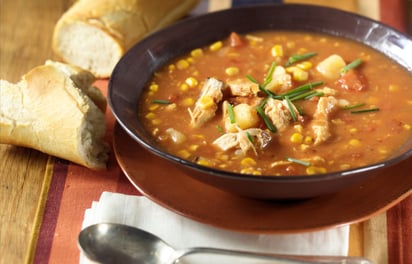 Brunswick Stew with Chicken and Pork
Leftover barbecue and chicken enrich this classic Southern stew.
This recipe is adapted from a recipe by Vicki Ownby, a certified Kansas City Barbeque Society master judge from Sevierville, Tenn. Vicki uses leftover barbecue in this dish. We found it perfect with leftover Kalua Pork and rotisserie chicken.
Ingredients (12)
4 Russet Potatoes
8 cup Low Sodium Chicken Broth
2 cup Chopped Cooked Chicken
3 cup Shredded Roast Pork
or 3 cup Pulled Pork
1 Onion
28 oz Canned Diced Tomatoes
28 oz Canned Creamed Corn
28 oz Canned Corn
¼ cup Worcestershire Sauce
1 T Butter
1 cup Ketchup
1 tsp Freshly Ground Black Pepper
Directions
Combine potatoes and broth in a Dutch oven or stockpot. Bring to a boil, reduce heat and simmer 20 to 30 minutes.
Add remaining ingredients. Cook 20 minutes.