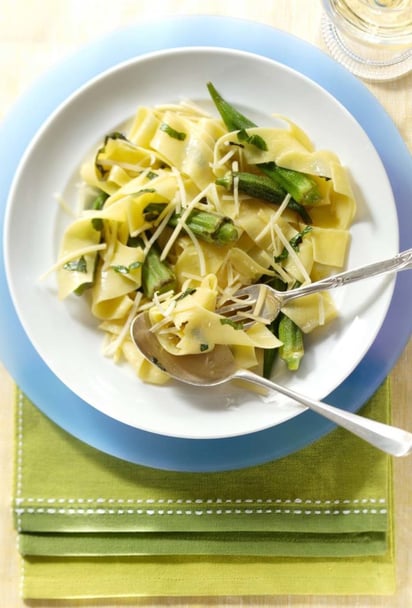 Pappardelle Pasta with Okra
Okra is lightly cooked then tossed with pappardelle pasta and cheese.
Ingredients (7)
6 oz Pappardelle Pasta
2 T Olive Oil
¾ lb Okra
¼ cup Chopped Chervil
or ¼ cup Chopped Basil
¼ cup Low Sodium Chicken Broth
½ tsp Kosher Salt
½ cup Grated Romano Cheese
or ½ cup Grated Parmesan Cheese
Directions
Cook pasta according to package directions. Drain.
Heat oil in a large skillet over medium-high heat. Saute okra 3 to 4 minutes or until pods are bright green. Add pasta, chervil, broth and salt to skillet; tossing gently, cook 1 to 2 minutes until heated through. Serve, topped with cheese.