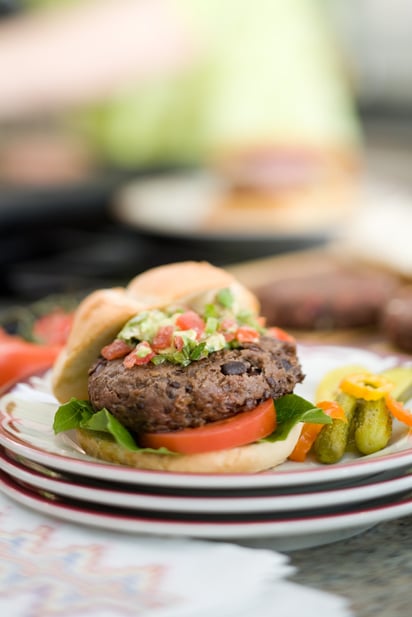 Beef and Black Bean Burgers
Canned black beans + lean ground beef = one delicious lower-fat burger.
Veggie burgers often are too tender for the grill. Here's a happy compromise: Add a can of black beans to lean ground beef for a burger that's lower in fat and calories. Garnish the burgers with your favorite chunky-style salsa.
Ingredients (9)
1 cup Canned Black Beans
¾ lb Lean Ground Beef
¼ cup Diced Red Onion
1 tsp Chili Powder
½ tsp Ground Cumin
¼ tsp Dried Oregano
½ tsp Salt
1 tsp Freshly Ground Black Pepper
4 Hamburger Buns
Directions
Place drained beans in a large bowl and mash beans with a potato masher. Add beef, onion, chili powder, cumin oregano, salt and pepper; mix to combine. Shape into 4 burgers and grill, broil or pan-fry until thoroughly cooked. Place burgers on buns and serve.