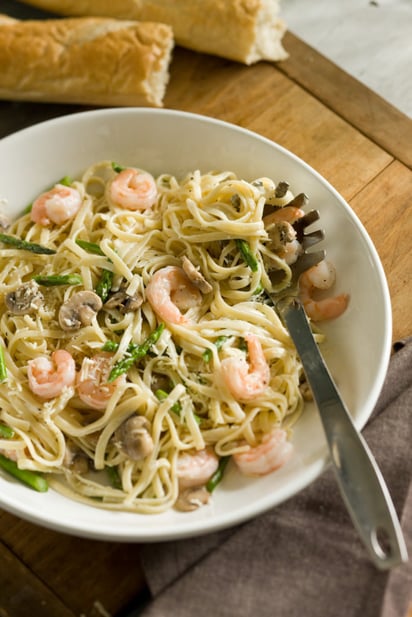 Fettuccine Alfredo with Shrimp, Asparagus and Mushrooms
Rich and creamy, this fettuccine boasts shrimp, asparagus and mushrooms.
Ingredients
(12)
2 pound fettuccine

1 pound asparagus, cut into 1-inch pieces

1 tablespoon unsalted butter

8 ounce white mushrooms, sliced

2 cup heavy cream

2 cup half-and-half

1/3 cup lemon juice

2 cup grated Parmigiano Reggiano cheese

1/2 teaspoon ground nutmeg

1/2 teaspoon salt

Freshly ground black pepper

1 pound shrimp, cooked and peeled
Ingredient Facts and Health Benefits
Discover fascinating facts and health benefits about some of the ingredients in the recipe, including other delicious recipes!
Directions
Cook fettuccine according to package directions, adding asparagus during the last 2 minutes. Drain well.
Melt butter in a large skillet. Add mushrooms and cook until tender, 2 to 3 minutes.
Combine cream, half-and-half and lemon juice in a large deep skillet; cook over medium heat about 3 minutes. Add pasta mixture to cream mixture; stir well. Add cheese, nutmeg, salt and pepper and cook, tossing fettuccine, until sauce thickens slightly, about 1 minute. Add shrimp and mushrooms. Serve warm.