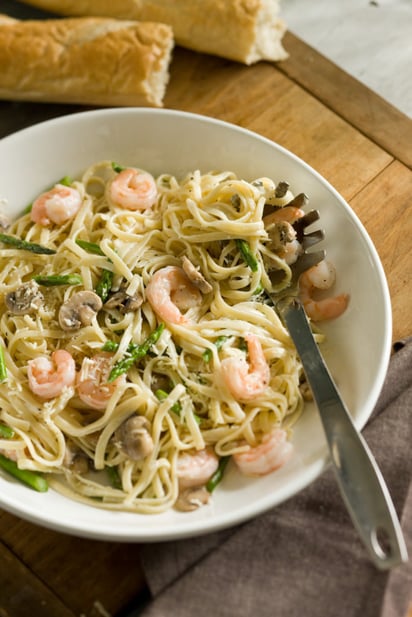 Fettuccine Alfredo with Shrimp, Asparagus and Mushrooms
Rich and creamy, this fettuccine boasts shrimp, asparagus and mushrooms.
Ingredients (12)
2 lb Fettuccine Pasta
1 lb Asparagus
1 T Unsalted Butter
8 oz White Mushrooms
2 cup Heavy Cream
2 cup Half and Half
⅓ cup Fresh Lemon Juice
or ⅓ cup Bottled Lemon Juice
2 cup Grated Parmigiano Reggiano Cheese
½ tsp Ground Nutmeg
½ tsp Salt
1 tsp Freshly Ground Black Pepper
1 lb Cooked Shrimp
Directions
Cook fettuccine according to package directions, adding asparagus during the last 2 minutes. Drain well.
Melt butter in a large skillet. Add mushrooms and cook until tender, 2 to 3 minutes.
Combine cream, half-and-half and lemon juice in a large deep skillet; cook over medium heat about 3 minutes. Add pasta mixture to cream mixture; stir well. Add cheese, nutmeg, salt and pepper and cook, tossing fettuccine, until sauce thickens slightly, about 1 minute. Add shrimp and mushrooms. Serve warm.