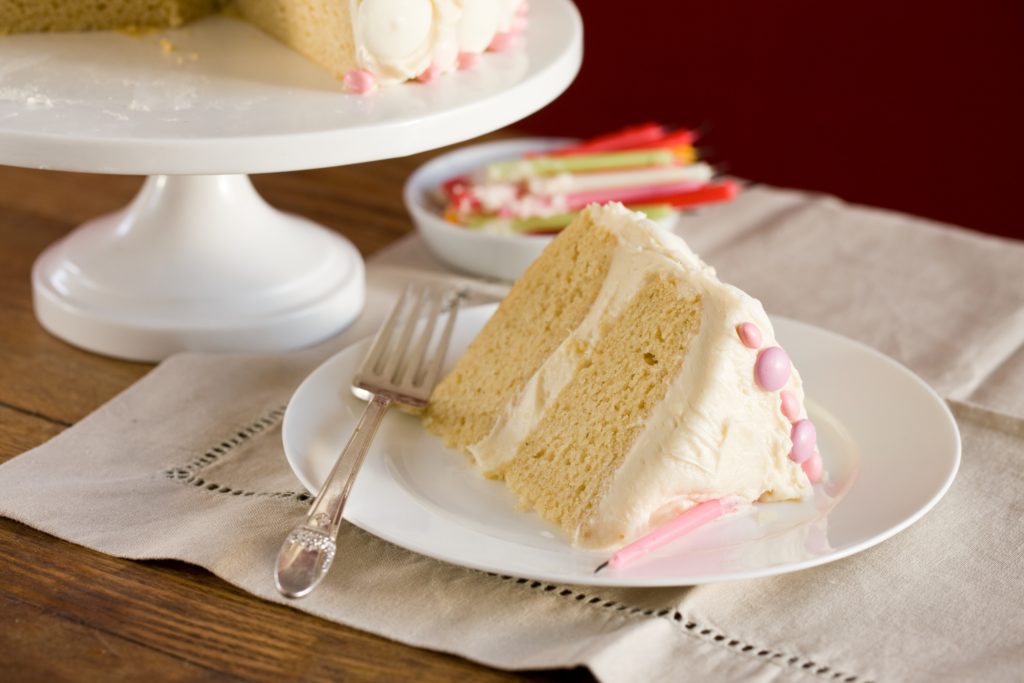 Maple Cake with Cream Cheese Frosting
Frosted and decorated with candies, this cake is moist and tender.
You can find the pink and white M&M's and the other candies used for decorating this cake at Michaels and upscale supermarkets.
Ingredients (18)
Cake
2¾ cup All Purpose Flour
1½ tsp Baking Powder
1½ tsp Baking Soda
1 tsp Salt
1 tsp Ground Cinnamon
½ tsp Ground Nutmeg
1½ Unsalted Butter Sticks
1 cup Sugar
½ cup Maple Syrup
3 Eggs
½ tsp Maple Extract
1 cup Buttermilk
¾ cup Chopped Walnuts (optional)
Frosting
8 oz Cream Cheese
1 Unsalted Butter Stick
3 cup Powdered Sugar
1 tsp Maple Extract
½ cup M&M Candies (optional)
Directions
Preheat oven to 325F. Generously grease and flour 2 (9-inch) round cake pans with 2-inch-high sides.
To prepare cake, sift flour, baking powder, baking soda, salt, cinnamon and nutmeg into a medium bowl. Using a mixer, beat butter and granulated sugar until light and fluffy. Add maple syrup and beat until smooth. Add eggs one at a time, beating well after each addition. Add flour mixture alternately with buttermilk, beginning and ending with flour mixture. Add maple flavoring. Fold in walnuts, if using. Divide batter equally between pans.
Bake cakes 25 to 30 minutes, until a wooden pick comes out clean when inserted in the center. Let cool in pans on a wire rack 20 minutes. Invert onto racks; let cool completely.
To prepare frosting, beat cream cheese and butter with a mixer at medium speed until smooth. Add powdered sugar and maple flavoring. Beat just until smooth.
Frost cake. Decorate with M&M's and other candies. Serves 16.