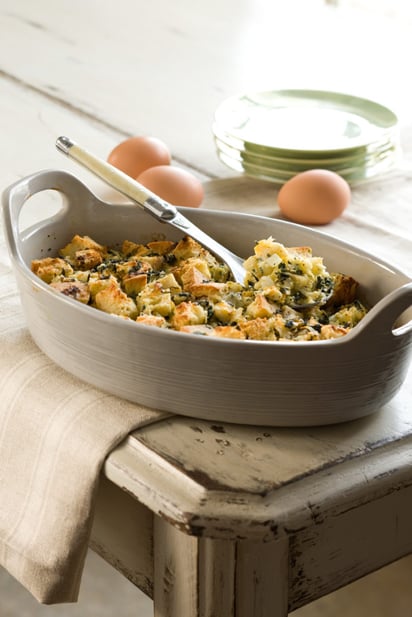 Herbed Spinach and Goat Cheese Strata
Stratas are perfect for entertaining because they let you do the prep work in advance.
You can prepare it the night before and pop in the oven in the morning or let stand a couple hours and bake. It's also great for dinner with a big green salad.
Ingredients (14)
10 oz Frozen Spinach
1 T Extra Virgin Olive Oil
1 Onion
½ tsp Salt
1 tsp Freshly Ground Black Pepper
¼ tsp Freshly Grated Nutmeg
1 lb Ciabatta Bread
6 oz Goat Cheese
1 cup Shredded Sharp Cheddar Cheese
2¾ cup 2% Milk
8 Eggs
2 T Whole Grain Mustard
2 tsp Minced Rosemary
1 T Minced Thyme
or ½ tsp Dried Thyme
Directions
Place thawed spinach in colander and squeeze out excess water. Chop finely.
Heat oil in a large heavy skillet over medium heat. Add onion and cook, stirring, until soft, 4 to 5 minutes. Add ¼ teaspoon salt, pepper and nutmeg. Stir in spinach; remove from heat.
Toss bread cubes, spinach mixture and cheeses together in a large bowl. Place mixture in a buttered 13 x 9-inch baking dish or 3-quart gratin dish.
Whisk together milk, eggs, mustard and herbs. Add ¼ teaspoon salt and pepper. Pour evenly over bread mixture. Cover with plastic wrap; refrigerate overnight.
Preheat oven to 350F. Remove strata from refrigerator; let stand at room temperature 30 minutes.
Remove plastic wrap and bake, uncovered, about 45 minutes, until puffed, golden brown and thoroughly cooked.