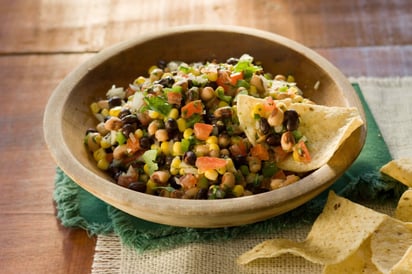 Mississippi Caviar
This bean-based salsa is a hit at parties.
With its sprightly, fresh taste, this salsa is perfect with chips or as a side to chicken, beef or eggs.
Ingredients (15)
Caviar
15 oz Canned Black Eyed Peas
15 oz Canned Black Beans
15 oz Canned Corn
2 Tomatoes
1 Onion
1 Green Bell Pepper
8 Garlic Cloves
½ Cilantro Bunch
1 Jalapeño Pepper
1 Lime
1 tsp Italian Seasoning
1 Italian Dressing Mix
½ cup Extra Virgin Olive Oil
½ cup Vinegar
Serve With
Directions
Combine first 11 ingredients (peas through seasoning) in a large bowl. Stir well.
Combine dressing mix, oil and vinegar. Pour over pea mixture. Stir well. Chill at least 2 hours. Serve with tortilla chips.