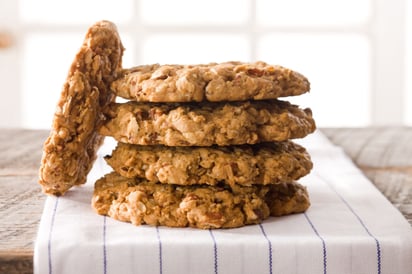 Vermont Maple Pecan Cookies
Oats, pecans and maple syrup combine in these yummy cookies.
These addictive cookies are certain to be the hit of any bake sale or cookie swap. Hearty oats and shredded coconut provide a chewy texture while toasted pecans add crunch. Tightly covered, these cookies will keep one week, although they seldom last that long.
Ingredients (12)
3 cup Old Fashioned Rolled Oats
1 cup Unsweetened, Shredded Coconut
2⅔ cup All Purpose Flour
1 tsp Salt
1 tsp Ground Cinnamon
2 cup Light Brown Sugar
1 cup Unsalted Butter
½ cup Maple Syrup
2 T Light Corn Syrup
2 tsp Baking Soda
1 tsp Maple Extract
or 1 tsp Vanilla Extract
2 cup Chopped Pecans
Directions
Preheat oven to 300F and position racks in the upper and lower thirds of the oven. Line two baking sheets with parchment paper.
Combine oats, coconut, flour, salt, cinnamon and brown sugar in a large bowl; whisk to blend.
Combine butter, maple syrup and corn syrup in a medium saucepan. Heat over medium heat until butter melts, stirring occasionally; remove from heat.
Combine baking soda and 1/4 cup boiling water, stirring to dissolve. Add to maple syrup mixture, stirring well. Add maple extract. Stir into dry ingredients. Add pecans; stir well.
Place 1/4-cup size balls of dough on baking sheets, 3 inches apart. Flatten slightly.
Bake 18 to 20 minutes, until golden brown and set, rotating positions halfway through the baking process. Cool on the baking sheets 5 minutes; transfer to a wire rack to cool completely.