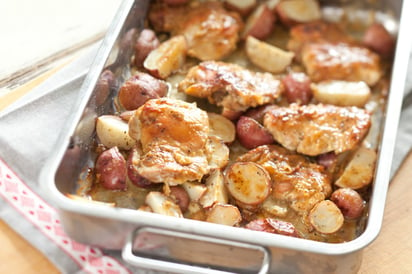 Honey Mustard Chicken with Roasted New Potatoes
Boneless skinless chicken thighs are usually less expensive than breasts.
A honey and mustard coating flavors succulent boneless, skinless chicken thighs. Red potatoes baked with the chicken soak up the juices.
Ingredients (9)
4 Skinless Boneless Chicken Thighs, 4–6oz each
½ tsp Salt
1 tsp Freshly Ground Black Pepper
4 T Dijon Mustard
2 T Honey
1 Shallot
1 T Minced Thyme
or ½ tsp Dried Thyme
1 lb Red Potatoes
¼ oz Olive Oil Cooking Spray
Directions
Preheat oven to 375F.
Sprinkle chicken thighs with 1/4 teaspoon salt and pepper. Place in a 13 x 9-inch baking dish. Combine mustard, honey, shallot and thyme in a small bowl to form a paste. Spread over thighs, covering them completely.
Add potatoes to the pan and spritz with olive oil spray. Sprinkle potatoes with 1/4 teaspoon salt and pepper.
Bake about 50 minutes, stirring potatoes once, until potatoes and chicken are tender.