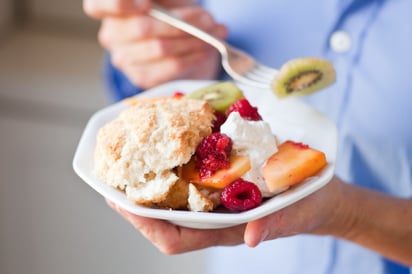 Coconut Shortcakes with Fresh Summer Fruit
A delightful combination of colorful fruit takes homemade shortcakes beyond strawberries.
These shortcakes also are wonderful with a blueberry sauce and walnuts sprinkled on the top.
Ingredients (13)
3 Mangoes
3 Kiwi
1 cup Fresh Raspberries
5 T Brown Sugar
2 cup All Purpose Flour
1 T Baking Powder
½ tsp Salt
1 Unsalted Butter Stick
1 cup Grated Unsweetened Coconut
¼ cup Crystallized Ginger
1 tsp Vanilla Extract
¾ cup Whole Milk
4 cup Whipped Cream (optional)
Directions
Combine mango, kiwifruit and raspberries. Add 2 tablespoons brown sugar; stir. Let stand 30 minutes.
Preheat oven to 400F. Line a baking sheet with parchment.
Combine flour, 2 tablespoons brown sugar, baking powder and salt in a large mixing bowl. Using your fingers or a fork, cut butter into flour mixture until it resembles coarse meal. Add ginger and coconut. Add vanilla and milk.
With a 1/3-cup measure or ice cream scoop, drop dough onto baking sheet. Sprinkle remaining 1 tablespoon brown sugar on tops.
Bake 15 to 18 minutes, until lightly colored and firm. Remove shortcakes from oven and let cool on wire rack.
Break shortcakes into halves horizontally; spoon fruit and juice between halves and top with whipped cream, if using.