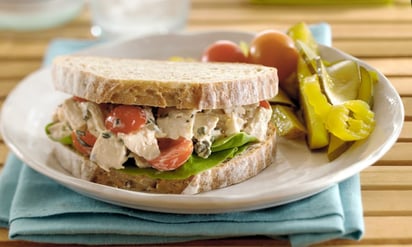 Chicken Salad and Grape Tomato Sandwiches
A great way to make use of leftover chicken.
Shredded chicken is good for making salads because it exposes more of the surface to the mayonnaise. To shred, tear with fingers while the chicken is still warm. The recipe makes about 3 cups salad; it can also be used for wraps or pitas.
Ingredients
(11)
1/2 cup reduced-fat mayonnaise

2 teaspoon lemon juice

1 teaspoon Djon mustard

1/2 teaspoon salt

Coarsely ground black pepper

2 cup (8 ounces) shredded cooked chicken breast

1 cup grape tomato halves

2 tablespoon finely chopped flat-leaf parsley

2 tablespoon chopped fresh chives

8 slice multi-grain bread

Lettuce leaves optional
Ingredient Facts and Health Benefits
Discover fascinating facts and health benefits about some of the ingredients in the recipe, including other delicious recipes!
Directions
Combine mayonnaise, lemon juice, mustard, salt and pepper in a large bowl. Add chicken, tomatoes, parsley and chives; stir gently.
Spoon about a quarter of the chicken salad on one slice of bread, top with lettuce and another slice of bread and cut diagonally in half. Repeat with remaining bread, salad and lettuce.