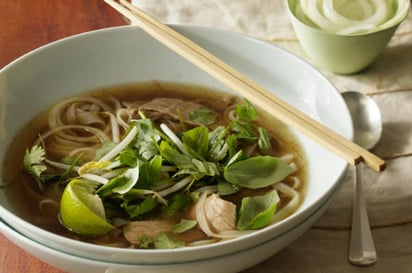 Pho (Beef Noodle Soup)
Just before serving, add a nest of rice noodles and razor-thin slices of beef to the fragrant hot broth.
The hot broth ladled over the noodles and raw beef cooks the beef, which is why its important to cut it as thinly as possible. Eat the noodles and beef with chopsticks, and savor the broth with a spoon.
Ingredients (19)
Broth
1 T Olive Oil
2 Yellow Onions
1 3in Knob Fresh Ginger Root
3 qrt Low Sodium Chicken Broth
1½ lb Boneless Beef Chuck Roast
1 Cinnamon Stick
3 Whole Cloves
3 Star Anise Pods
Noodles and Beef
1 lb Rice Stick Noodles
¼ cup Fish Sauce
2 tsp Sugar
½ tsp Salt
½ lb Beef Rib Eye
or ½ lb Flank Steak
1 Yellow Onion
3 Green Onions
1 lb Mung Bean Sprouts
½ Cilantro Bunch
½ Basil Bunch
2 Limes
Directions
To prepare broth, heat oil in a large stockpot. Add onions and ginger; saute until brown. Add chicken broth, beef chuck, cinnamon, cloves and star anise. Bring to a boil over medium-high heat; reduce heat and simmer 1 hour.
To prepare noodles, soak noodles in warm water until pliable, 20 to 25 minutes. Drain well.
After broth has simmered 1 hour, remove from heat. Remove cooked beef, and save for another use. Strain broth into another large stockpot, discarding onions, ginger and whole spices. Stir in fish sauce, sugar and salt. Just before serving, bring back to a full boil.
Arrange yellow onion, green onion, bean sprouts, cilantro, basil and lime wedges on a small platter.
To cook noodles, bring a large pot of water to a full boil. Place noodles, one or two servings at a time, into a sieve and lower into boiling water. Cook 20 to 30 seconds. Drain well and transfer to large individual bowls. Repeat until all noodles are done.
Top each bowl of noodles with a few slices of steak. Ladle in 2 cups of hot broth. The heat should cook the meat instantly. Garnish with yellow onion, green onion, bean sprouts, cilantro, basil and lime wedges.