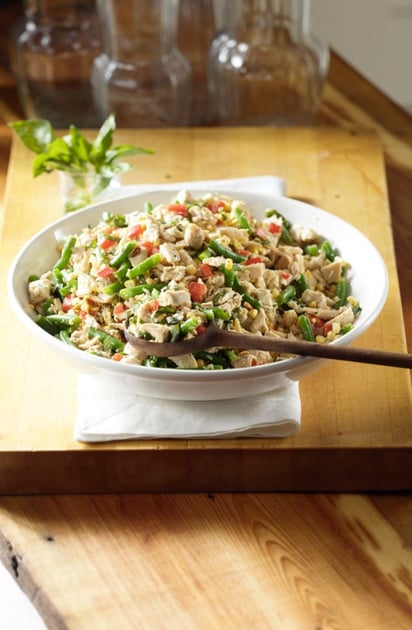 Roasted Chicken Salad with Basil
Summer vegetables—green beans and corn—turn roast chicken into a one-dish supper.
A purchased rotisserie chicken makes this salad a snap. Cook the corn and beans until just crisp-tender.
Ingredients (11)
3 lb Shredded Rotisserie Chicken
1¾ cup Trimmed Green Beans
3 Ears of Corn
1 Red Bell Pepper
½ cup Chopped Basil
¼ cup Pine Nuts
2 Garlic Cloves
⅓ cup Extra Virgin Olive Oil
¼ cup Sherry Vinegar
1 tsp Salt
½ tsp Freshly Ground Black Pepper
Directions
Remove skin from chicken, discard. Remove meat from bones and chop. You should have about 4 cups of meat.
Toss chicken, beans, corn, bell pepper, basil and pine nuts in a large bowl.
Whisk garlic, oil, vinegar, salt and pepper in a bowl; pour over salad, tossing gently.