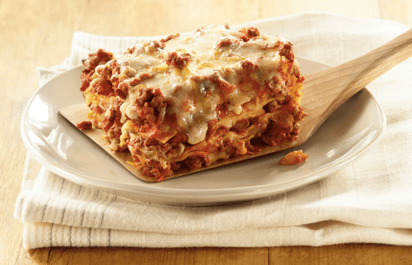 Lasagna with Cheddar Cheese
Cheddar lends this lasagna an interesting change-up.
Ingredients
(19)
Meat Sauce:

1 pound lean ground beef

1/2 pound Italian sausage

1 cup chopped onion

1 tablespoon minced garlic

1 cup dry white wine

2 tablespoon tomato paste

2 tablespoon chopped fresh parsley

1/2 teaspoon crushed red pepper

1 can (15-ounce) crushed tomatoes in purée

Béchamel Sauce:

1/4 cup butter

1/4 cup all purpose flour

1/2 teaspoon salt

1/4 teaspoon pepper

1/4 teaspoon ground nutmeg

3 cup 2% reduced-fat milk

12 sheet no-boil lasagna noodles

3 cup shredded aged Cheddar cheese
Ingredient Facts and Health Benefits
Discover fascinating facts and health benefits about some of the ingredients in the recipe, including other delicious recipes!
Directions
To prepare meat sauce, brown beef and sausage in a large skillet over medium-high heat about 10 minutes, breaking into small pieces. Spoon out most of the fat. Reduce heat to medium. Add onion and garlic; saute 5 minutes. Add wine; bring to a boil. Reduce heat and cook, stirring occasionally, until wine is nearly evaporated. Stir in tomato paste, chives, parsley and crushed red pepper. Stir in crushed tomatoes. Bring to a simmer; reduce heat. Simmer until sauce thickens, 10 to 15 minutes.
To prepare bechamel sauce, melt butter in a medium saucepan over medium heat. Whisk in flour, salt, pepper and nutmeg. Cook and stir for 1 minute. Gradually whisk in milk. Cook and stir with whisk until thick and bubbly, about 10 minutes. Cool 10 minutes.
Preheat oven to 400F.
Spread 3/4 cup meat sauce in bottom of a 13-by-9-inch baking pan. Place 4 sheets of lasagna crosswise in pan over sauce, overlapping slightly. (The sheets will not reach all the way across the pan, but they will expand as they bake.) Top with one-third of the meat sauce (spreading evenly to cover noodles) and then one-third of the bechamel sauce. Top with one-third of the cheese. Repeat layers (starting with noodles) twice.
Bake, uncovered, 35 to 40 minutes, covering loosely with foil during the last 10 minutes if top browns too much. Let stand 15 minutes before cutting.