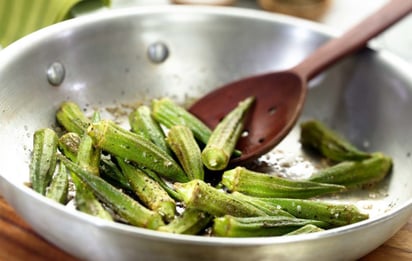 Quick Okra Sauté
Sautéing brings out the crisp, nutty-tasting side of okra.
To those only familiar with fried okra, this will be an okra epiphany. With its crisp, green fresh taste, you'll swear you're eating a different vegetable. Sauté only until al dente.
Ingredients (5)
2 tsp Olive Oil
1 tsp Butter
½ lb Okra
¼ tsp Kosher Salt
¼ tsp Freshly Ground Black Pepper
Directions
Heat oil and butter over high heat in a large skillet. Add okra; sauté 3 to 4 minutes or until pods are bright green with slight browning. Sprinkle with salt and pepper. Serve hot.