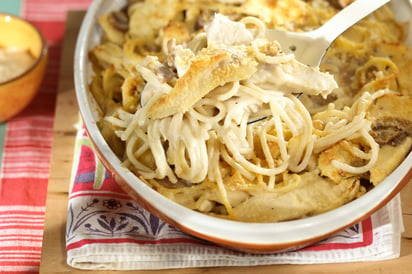 Chicken Tetrazzini
The traditional Italian baked pasta, with chicken, cheese, sherry and nutmeg.
Ingredients
(12)
4 tablespoon unsalted butter

1 (8-ounce) package sliced mushrooms

1/3 cup all-purpose flour

1 (14-ounce) can low-sodium chicken broth

1 1/3 cup half-and-half

3 tablespoon dry sherry (optional)

1/2 teaspoon kosher salt

1/4 teaspoon coarsely ground black pepper

1/8 teaspoon grated nutmeg

3 cup (1 pound) cooked boneless, skinless chicken, cut into strips

1/2 pound spaghetti, broken in half and cooked according to package directions

1/2 cup grated Parmesan cheese
Ingredient Facts and Health Benefits
Discover fascinating facts and health benefits about some of the ingredients in the recipe, including other delicious recipes!
Directions
Preheat oven to 425F.
Melt butter in a large nonstick skillet over medium-high heat. Add mushrooms; saute 4 minutes or until browned. Sprinkle with flour and toss to combine. Add broth and half-and-half; cook, stirring often, until mixture comes to a boil. Reduce heat and simmer 2 minutes, stirring constantly. Stir in sherry (if using), salt, pepper and nutmeg. Remove from heat and stir in chicken.
Combine spaghetti and chicken mixture; toss gently and spoon into a 13 x 9-inch baking dish or shallow 3-quart baking dish; sprinkle with cheese. Bake 20 minutes or until golden brown and bubbly.