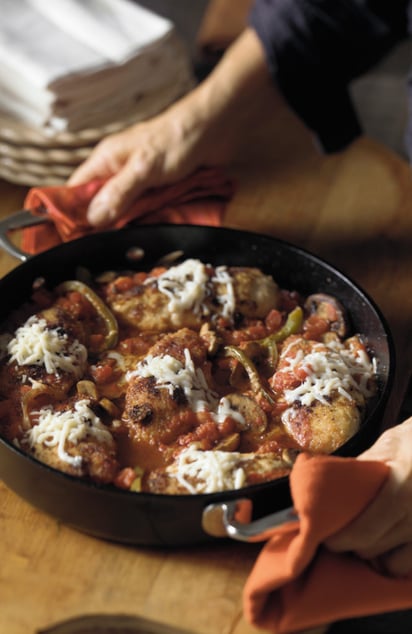 Braised Chicken with Fire-Roasted Tomatoes
A saucy, savory, skillet full of full-flavored chicken.
Ingredients (13)
14 oz Fire Roasted Diced Tomatoes
¾ cup Low Sodium Chicken Broth
or ¾ cup Low Sodium Vegetable Broth
1½ T Tomato Paste
1½ tsp Freshly Grated Orange Zest
½ tsp Kosher Salt
¼ tsp Freshly Ground Black Pepper
6 Chicken Breasts, Boneless, Skinless, 5-7oz ea
2 T Seasoned Dried Breadcrumbs
2 T Extra Virgin Olive Oil
½ Green Bell Pepper
1 Onion
8 oz Mushrooms
¾ cup Shredded Provolone Cheese
or ¾ cup Shredded Mozzarella Cheese
Directions
Combine tomatoes, broth, tomato paste, orange rind, salt and pepper in a large bowl; set aside.
Lightly coat chicken with breadcrumbs. Heat 1 tablespoon oil in a large nonstick skillet over medium-high heat. Add chicken; cook until golden brown, about 6 minutes per side. Remove to a plate.
Heat remaining oil in skillet. Add green pepper, onion and mushrooms; saute 7 to 12 minutes, or until mushroom liquid evaporates and vegetables are tender.
Return chicken and any juices to pan; spoon vegetables over top. Add tomato mixture. Cover, bring to a boil; reduce heat and simmer until chicken is done, about 15 minutes. Sprinkle with cheese; cover and cook until cheese melts, about 1 minute.