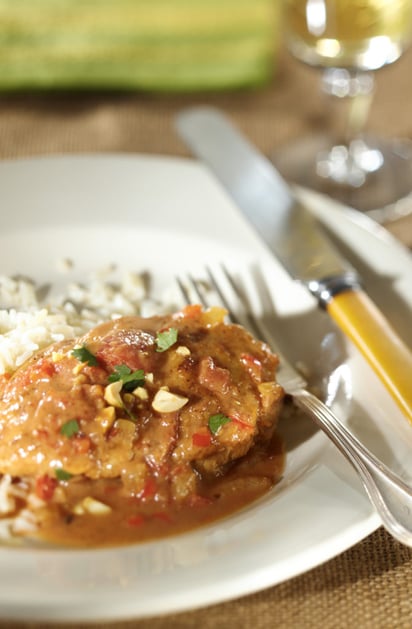 Chicken in Tomato-Peanut Sauce
A long turn in a Crock-Pot will lure layer after layer of flavor out of this Thai-inspired chicken dish.
Serve over basmati rice.
Ingredients (14)
6 Boneless Skinless Chicken Thighs
¼ cup Plain Dried Breadcrumbs
2 T Vegetable Oil
1 cup Diced Onion
½ cup Diced Red Bell Pepper
14 oz Canned Diced Tomatoes
⅓ cup Peanut Butter
2 Garlic Cloves
2 T Brown Sugar
2 T Soy Sauce
¼ tsp Crushed Red Pepper
½ cup Low Sodium Chicken Broth
6 T Chopped Cilantro (optional)
3 T Chopped, Roasted Peanuts
Directions
Dredge chicken in breadcrumbs. Heat oil in a large nonstick skillet over medium-high heat. Add chicken and cook until golden brown on both sides. Transfer to a medium-size slow cooker.
Add onion and bell pepper to skillet; cook 4 minutes. Stir in tomatoes, peanut butter, garlic, sugar, soy sauce, red pepper and broth. Spoon over chicken.
Cover and cook on low 3 hours or until chicken is tender. Serve with peanuts and cilantro.