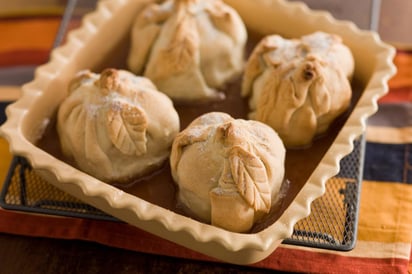 Old-Fashioned Apple Dumplings
These dumplings are a treat for your sweetie.
The syrup that is poured over the apple dumplings bakes into a delicious sauce. Eat the dumplings straight from the oven or warmed up.
Ingredients (13)
Dumplings
2 cup All Purpose Flour
2 tsp Baking Soda
1 tsp Salt
⅔ cup Butter
½ cup 2% Milk
4 Rome Beauty Apples
or 4 Ida Red Apples
or 4 Cortland Apples
6 T Sugar
1½ T Ground Cinnamon
½ tsp Ground Nutmeg
⅓ cup Dried Cranberries (optional)
Syrup
1 cup Sugar
¼ tsp Ground Cinnamon
¼ tsp Ground Nutmeg
Directions
Preheat oven to 375F.
To prepare dumplings, combine flour, baking powder and salt in a large bowl. Cut in butter, using your hands, until mixture resembles coarse crumbs. Pour in milk and stir to form a dough. Add more flour if needed to make dough less sticky. Do not overwork. Divide dough in half. Roll out one half on a floured surface to about 1/4 inch thick. Cut into two 6-inch squares.
Core and cut off top and bottom of each apple to flatten. Rinse in cold water and pat dry with a paper towel.
Mix together 4 tablespoons sugar, cinnamon and nutmeg. Place 1 apple in center of each dough square. Fill cores with a little sugar mixture. Generously sprinkle half the remaining sugar mixture on apples. Moisten the edges of pastry square with a finger dipped in cool water and bring corners together at the top of the apple. Press edges together to seal and pinch together any tears in the dough around the apple. Repeat with remaining dough and apples.
Place all four dumplings in a baking dish, 1 inch apart, and decorate with cut-outs made from leftover dough.
Combine syrup ingredients in a medium saucepan. Bring to a boil then remove from heat to cool slightly. Pour around dumplings and sprinkle with remaining 2 tablespoons sugar. Bake 45 minutes, until apples are tender and pastry is nicely browned. If pastry is browning too quickly, place foil over the top for the final 10 to 15 minutes of baking.