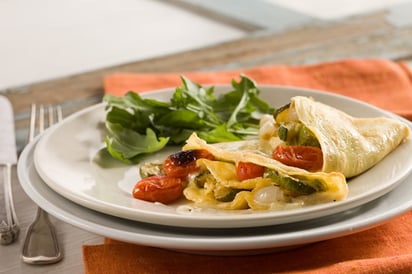 Roasted Vegetable Crepes
Thin pancakes with a savory vegetable filling are great for dinner or brunch.
If you've made pancakes, you can make crepes. You also can use packaged ones or even flour tortillas in this recipe. Use brie cheese that is room temperature or a soft, spreadable cheese, such as Alouette. This recipe is based on one offered by Flip Happy Crepes.
Ingredients
(18)
-- Crepes:

1 cup quick-mixing flour, such as Wondra

2/3 cup 2% reduced-fat milk

2/3 cup cold water

3 -- eggs

6 tablespoon melted butter, divided

1/4 teaspoon salt

Filling:

2 medium zucchini, cut into bite-size pieces (about 2 cups)

1 -- green bell pepper, cored, seeded and cut into bite-size pieces (about 1 cup)

1 medium sweet onion, coarsely chopped (about 3/4 cup)

2 cup grape tomatoes

2 tablespoon olive oil

1/2 teaspoon kosher salt

1/4 teaspoon dried thyme

-- Coarsely ground black pepper

To assemble:

5 ounce brie cheese, softened
Ingredient Facts and Health Benefits
Discover fascinating facts and health benefits about some of the ingredients in the recipe, including other delicious recipes!
Directions
To prepare crepes, place flour in a medium bowl. Gradually whisk in milk and water until smooth. Whisk in eggs, 3 tablespoons butter and salt. Let stand 10 minutes. (This allows the flour to absorb the liquid.)
Heat an 8- or 9-inch crepe pan over medium-high heat until hot. Lightly brush pan with some of the remaining melted butter.
Pour 1/4 cup batter into the center of pan. Quickly tilt in all directions. (Batter should lightly cover the bottom of pan.) Cook 30 seconds. Lift edge with a spatula to check doneness. Shake and jerk the pan by its handle to loosen crepe. Turn crepe over with your fingers or a spatula, or flip. Cook 15 to 20 seconds. (Second side will be spotty brown.)
Transfer to a wire rack to cool. Repeat with remaining batter and melted butter. Makes 10 crepes.
Preheat oven to 350F.
To prepare filling, place zucchini, bell pepper, onion and tomatoes in a large baking pan. Drizzle with olive oil. Add salt, thyme and pepper. Roast 30 minutes or until tender. Makes about 3 cups.
Spread 2 tablespoons cheese on half of each crepe. Top with about 1/3 cup roasted vegetables. Fold in half then in half again.