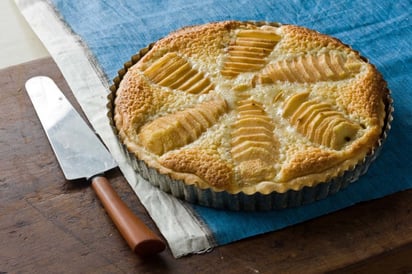 Pear Frangipane
Almond-flavored cream provides a base for this pear tart.
Ingredients (13)
Pastry
1 cup All Purpose Flour
¼ tsp Salt
6 T Unsalted Butter
Frangipane
6 T Unsalted Butter
⅔ cup Sugar
¾ cup Ground Almonds
2 tsp All Purpose Flour
1 tsp Cornstarch
1 Egg
1 Egg White
1 tsp Vanilla Extract
1 tsp Almond Extract
3 Pears
Directions
To prepare pastry, place flour and salt in the bowl of a food processor. Pulse to blend. Add butter and pulse until mixture resembles coarse meal. Add ice water; pulse until ball barely forms. Gather into a ball, wrap with plastic wrap and refrigerate 1 hour.
Preheat oven to 375F.
Roll out dough and place into a 9-inch tart pan with removable bottom. Bake 20 minutes. Let cool.
To prepare frangipane, place butter and granulated sugar in the bowl of a food processor; process until smooth. Add almonds and blend. Add flour, cornstarch, egg and egg white. Process until smooth. Add vanilla and almond extracts; blend well.
Spread frangipane in pastry. Slice each pear horizontally into ½ inch thick slices, but do not separate. Slide each pear half into frangipane, nestling into mixture. Press, spreading the pear slices slightly. Bake about 40 minutes, until frangipane is puffy and golden.