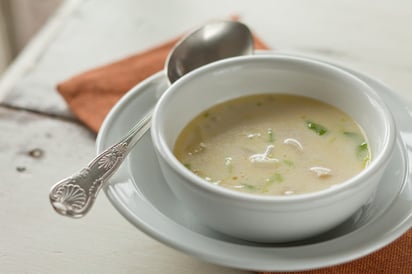 Creamy Chicken Soup
This rich, creamy soup will warm you body and soul.
A great way to use up leftover roast chicken! Tip: Whisking the hot soup into the egg mixture very gradually keeps the eggs from curdling.
Ingredients (9)
4 T Butter
1 Onion
¼ cup All Purpose Flour
6 cup Low Sodium Chicken Broth
3 Egg Yolks
1 cup Heavy Cream
¾ cup Chopped Cooked Chicken
½ tsp Salt
1 tsp Freshly Ground White Pepper
Directions
Melt butter in a large saucepan over medium-low heat. Add onion and cook 8 minutes. Add flour, whisking until smooth. Cook 3 minutes. Add 1 cup of hot chicken broth, whisking vigorously to blend. Whisk in 5 more cups of broth. Bring to a simmer, stirring.
Whisk egg yolks and cream together in a large bowl. Ladle about 1/2 cup hot soup into egg mixture, whisking slowly. Pour egg mixture back into pan, whisking slowly. Heat slowly (do not boil), adding more broth if too thick. Add chicken, salt and pepper, and heat thoroughly. Makes 8 cups.