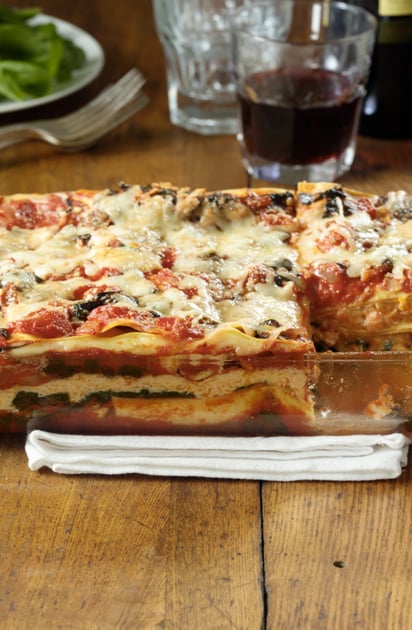 Squash and Greens Winter Lasagna
Butternut squash and turnip greens—unlikely for lasagna, but so good.
Ingredients (16)
Sauce
2 T Olive Oil
1 Onion
3 Garlic Cloves
28 oz Canned Stewed Tomatoes
6 oz Tomato Paste
½ cup Dry Red Wine
1 T Red Wine Vinegar
¼ tsp Crushed Red Pepper
6 oz Spinach
Lasagna
15 oz Part Skim Ricotta Cheese
1 Egg
2 cup Shredded Provolone Cheese
1 Butternut Squash
12 No Boil Lasagna Noodles
4 cup Turnip Greens
¾ cup Grated Parmigiano Reggiano Cheese
Directions
Preheat oven to 350F.
To prepare sauce, heat olive oil in a large skillet. Add onion and garlic; saute 5 minutes. Add tomatoes, tomato paste, wine, vinegar and crushed pepper. Cook 5 minutes. Stir in spinach.
To prepare lasagna, combine ricotta cheese, egg, ½ cup provolone cheese and mashed squash; stir well.
Spoon a small amount of tomato sauce into bottom of a 13-by-9-inch baking dish. Layer 4 uncooked noodles, turnip greens, 3/4 cup provolone, half the ricotta cheese mixture, and 1/3 of the remaining sauce. Add 4 more lasagna noodles, top with half the remaining tomato sauce, the remaining 3/4 cup provolone, and remaining ricotta cheese mixture. Top with 4 more noodles, remaining tomato sauce and Parmesan cheese.
Cover with foil and bake 40 minutes. Uncover and bake 5 to 10 minutes longer or until top is browned.