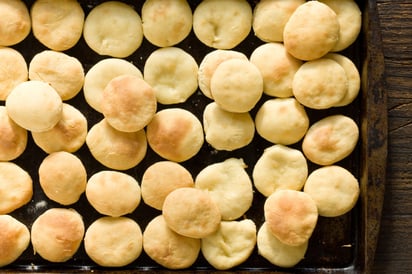 HamBob's Angel Biscuits
These yeasty buttermilk biscuits are perfect with country ham.
Ingredients (7)
1 cup Buttermilk
¼ tsp Baking Soda
1 T Active Dry Yeast
1 T Sugar
¼ tsp Salt
3¼ cup All Purpose Flour
½ cup Vegetable Shortening
Directions
Mix buttermilk and baking soda together.
Mix yeast, sugar, salt and water together. Let stand until foamy.
Combine flour and shortening, stirring with a fork until mixed well. Mix in buttermilk mixture. Mix in yeast mixture. (Dough will be wet.) Cover loosely with a kitchen towel and let rise in a warm place until doubled in size.
Pat out dough to 1/2-inch thickness on a heavily floured board. Cut biscuits with a 2-inch cutter. Place on a baking sheet and let rise 20 minutes.
Preheat oven to 400F.
Bake biscuits 10 to 12 minutes, until golden brown. Makes about 18.