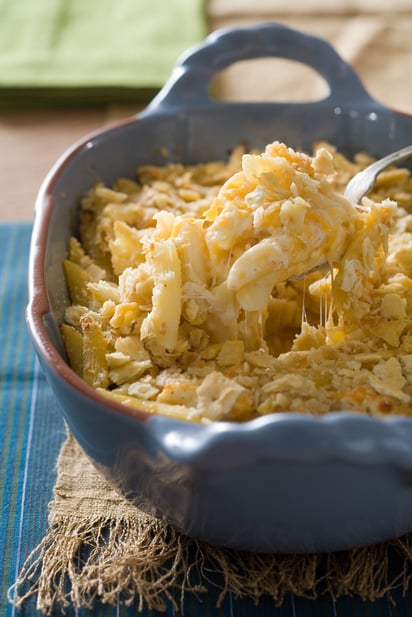 Four-Cheese Macaroni and Cheese
America's favorite pasta dish with four cheeses.
Ingredients (13)
3 cup Penne Pasta
1 Large Egg
2 Garlic Cloves
1½ cup 2% Milk
4 oz Sharp Cheddar Cheese
4 oz Cream Cheese
4 oz Gruyere Cheese
or 4 oz Swiss Cheese
3 oz Parmigiano Reggiano Cheese
¼ tsp Red Pepper Flakes
¼ tsp Salt
¼ tsp Freshly Ground Black Pepper
3 T Butter
12 Saltine Crackers
Directions
Cook pasta according to package directions, drain.
Preheat oven to 350F. Lightly grease a 13 x 9-inch or 8-cup casserole dish.
Combine egg, garlic and milk and mix well. Place pasta in a large casserole dish. Add milk mixture and remaining ingredients, except butter and crackers. Mix well with a spoon. Combine butter and crackers. Sprinkle over pasta. Bake 30 minutes or until browned and bubbly.