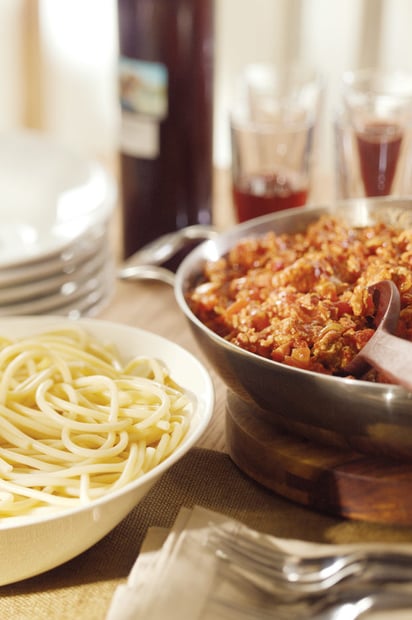 Pasta with Bolognese Sauce
Italy's iconic red sauce for pasta is easy to make.
Use a flavorful ham for the best results. Country ham, which is cured and smoked, is ideal here, but any flavorful ham or prosciutto works.
Ingredients (13)
2 T Butter
1 cup Chopped Onion
½ cup Chopped Carrot
1 lb Ground Pork
4 oz Country Ham
1 cup Dry White Wine
28 oz Canned Crushed Tomatoes
½ tsp Salt
½ tsp Freshly Ground Black Pepper
½ cup Whole Milk
2 Garlic Cloves
½ cup Chopped Parsley
6 cup Cooked Fusilli Pasta
Directions
Melt butter in a large skillet, add onion and carrot, and saute until tender. Add pork and ham, and cook for 5 minutes. Add wine, and cook until absorbed. Add tomatoes, salt and pepper, and simmer, covered, for 1 hour. Add milk, garlic and parsley and cook 15 minutes longer. Serve over pasta.