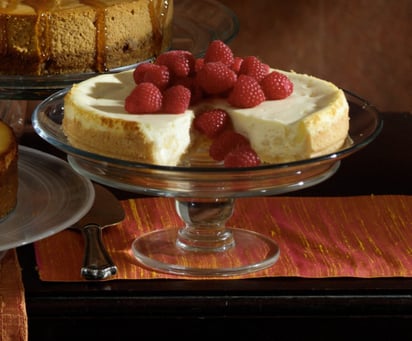 French Cheesecake
Camembert cheese is the secret ingredient in this dense, flavorful cheesecake.
A soft-ripened double-creme French cheese from the Normandy region, Camembert puts the "cheese" in "cheesecake." Simple ingredients and so, so good.
Ingredients
(12)
Crust:

1/3 cup sugar

6 tablespoon butter

1 teaspoon vanilla extract

1 cup all-purpose flour

Filling:

2 (8-ounce) packages light cream cheese, softened

8 ounce Camembert or Brie, room temperature

1/2 cup sugar

2 eggs

1 teaspoon vanilla extract

Fresh raspberries (optional)
Ingredient Facts and Health Benefits
Discover fascinating facts and health benefits about some of the ingredients in the recipe, including other delicious recipes!
Directions
Preheat oven to 350F.
To prepare crust, beat sugar and butter with an electric mixer until smooth. Add vanilla. Mix in flour until crumbly. Press on bottom and 1 inch up the sides of a 9-inch springform pan. Prick all over with a fork. Bake 13 to 15 minutes or until set and golden. Let cool before filling.
To prepare filling, beat cream cheese and sugar with an electric mixer in a large mixing bowl until light and smooth. Add eggs one at a time, mixing well on low speed after each addition. Remove rind from Camembert and break into 1/2-inch pieces. Add to cheese mixture. Stir in vanilla. Filling will be lumpy.
Pour filling into crust. Place pan on a baking sheet; bake 25 minutes or until cake is almost set.
Run a knife around rim of pan to loosen cheesecake. Let cool to room temperature on a wire rack, then refrigerate at least 3 hours or overnight.
To serve, remove springform side. Slice and garnish with fresh raspberries, if desired.