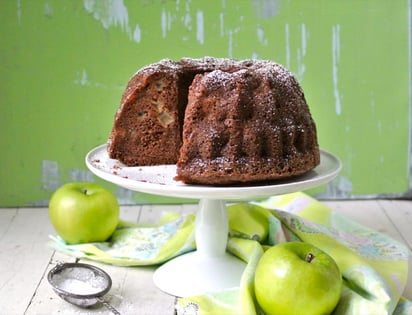 Rustic Apple Cake
A not-too-fussy apple cake featuring tart Granny Smith apples.
Ingredients
(8)
1 cup (2 sticks) butter, softened

2 cup sugar

4 eggs

2 cup all-purpose flour

2 teaspoon baking powder

2 teaspoon baking soda

2 teaspoon cinnamon

6 cup coarsely chopped, peeled Granny Smith apples or any tart firm apple such as Fuji or Gala
Ingredient Facts and Health Benefits
Discover fascinating facts and health benefits about some of the ingredients in the recipe, including other delicious recipes!
Directions
Preheat oven to 350F. Butter a Bundt pan.
Combine butter and sugar in the bowl of an electric mixer. Beat on low speed until creamy. Add eggs one at a time and continue to blend. Slowly add flour, baking powder, baking soda and cinnamon; mix well.
Add apples and mix with a spoon. Pour into prepared pan.
Bake about 60 minutes, until a knife inserted in the center comes out clean. Let cool completely before removing from pan. Sprinkle with powdered sugar if desired.