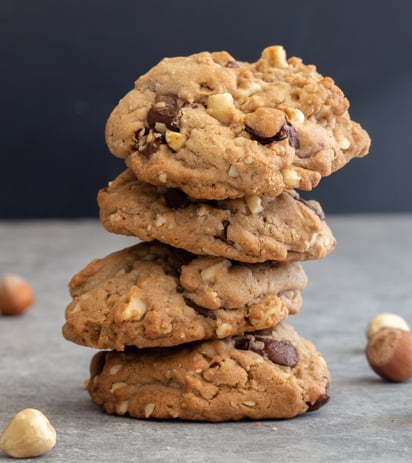 Supreme Chocolate Drop Cookies
Ingredients
(12)
1 1/4 cups all purpose flour

1/2 teaspoon baking soda

1 pinch salt*

1/4 cup +1 tablespoon butter (soft)*

3/4 cup brown sugar (lightly packed)

2 tablespoons hazelnut cream (Nutella)

1 large egg room temperature

1/2 teaspoon vanilla

1 cup chocolate chips

3/4 cup coarsely chopped hazelnuts

*if using unsalted butter then add 1/4 teaspoon of salt.:

For room temperature remove egg from fridge 30-45 minutes before using.:
Ingredient Facts and Health Benefits
Discover fascinating facts and health benefits about some of the ingredients in the recipe, including other delicious recipes!