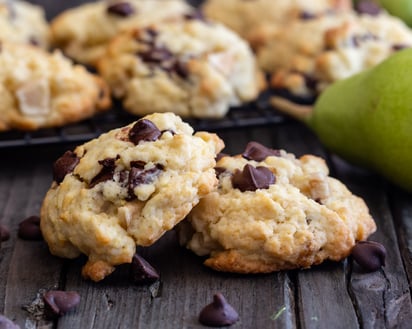 Chocolate Chip Pear Drop Cookies
Ingredients
(11)
2 cups all purpose flour

1/2 cup granulated sugar

2 tablespoons packed brown sugar

1 teaspoon baking powder

1 pinch salt*

2 large eggs (room temperature)

1/2 cup butter (softened)*

1 medium-large pear (peeled, cleaned & finely chopped)

1/2 cup chocolate chips (semi sweet or milk)

*If using unsalted butter then add 1/4 teaspoon of salt.:

For room temperature remove the ingredient about 30-45 minutes before using.:
Ingredient Facts and Health Benefits
Discover fascinating facts and health benefits about some of the ingredients in the recipe, including other delicious recipes!