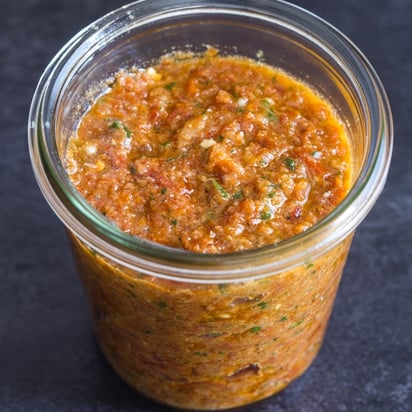 Sun-Dried Tomato Pesto Recipe
Ingredients
(10)
1 cup packed sun-dried tomatoes (drained & quartered)

5 fresh basil leaves

3 almonds (blanched)

1/2 tablespoon pine nuts

1 clove garlic (minced)

1/4 cup freshly grated parmesan cheese

1/2 teaspoon oregano

1/3-1/2 cup olive oil*

*start by adding 1/3 cup then more if needed but add 1 tablespoon at a time. (I used 1/2 cup + 1 tablespoon).:

2-3 tablespoons olive oil to top the finished pesto before refrigerating.
Ingredient Facts and Health Benefits
Discover fascinating facts and health benefits about some of the ingredients in the recipe, including other delicious recipes!