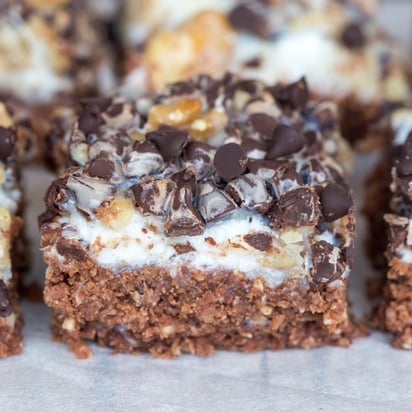 Rocky Road Bar Cookies
Ingredients
(13)
FOR THE BASE:

3 ounces semi sweet (dark - good quality) chocolate

1/2 cup butter

2 cups graham cracker crumbs (or digestive cookie crumbs)

1/2 cup finely chopped nuts*

1/2 cup flaked coconut

FOR THE TOPPING:

1/2 cup mini semi sweet chocolate chips

1 1/2 cups mini marshmallows (if you can't find mini, then just cut the large ones into small pieces)

1/2 cup flaked coconut

1/2 cup coarsely chopped nuts*

1/2 can sweetened condensed milk

*You can use walnuts, hazelnuts, pecans or even almonds. I used walnuts.:
Ingredient Facts and Health Benefits
Discover fascinating facts and health benefits about some of the ingredients in the recipe, including other delicious recipes!