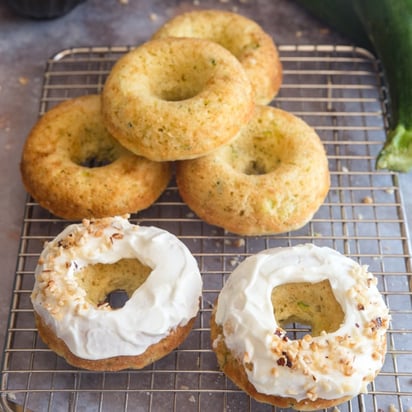 Easy Zucchini Baked Donuts
Ingredients
(18)
FOR THE DONUTS:

1 cup flour

3/4 teaspoon baking powder

1/4 teaspoon baking soda

pinch salt

1/3 cup sugar

3 tablespoons butter melted and cooled

1 egg

1/2 teaspoon vanilla

3 tablespoons greek yogurt plain

1/4 cup + 1 tablespoon milk

1/2 cup shredded zucchini (squish out excess moisture before measuring)

FOR THE FROSTING:

3 tablespoons powdered/icing sugar

1/2 cup light cream cheese*

1/2 teaspoon vanilla

2 tablespoons milk

* Remove from fridge 30 minutes before using. Add more or less sugar and or milk depending on how thick you want the icing.:
Ingredient Facts and Health Benefits
Discover fascinating facts and health benefits about some of the ingredients in the recipe, including other delicious recipes!