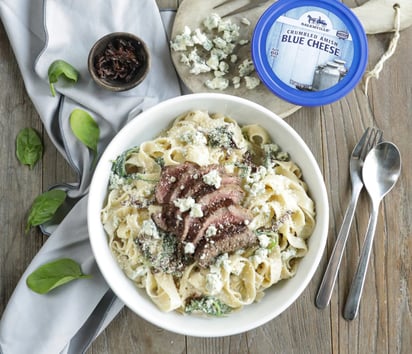 Creamy Blue Cheese Steak Pasta
Ingredients
(12)
2 Filet Mignon, 8-10oz ea

2 T Olive Oil

¼ cup Diced Yellow Onion

2 Garlic Cloves

1½ cup Heavy Whipping Cream

½ cup Salemville® Blue Cheese Crumbles

1 cup Baby Spinach

¼ cup Sun Dried Tomatoes

1 lb Fettuccine Pasta

2 T Panko Breadcrumbs

1 tsp Salt

1 tsp Freshly Ground Black Pepper
Ingredient Facts and Health Benefits
Discover fascinating facts and health benefits about some of the ingredients in the recipe, including other delicious recipes!
Directions
Season the steak on both sides with salt and pepper.
Add the oil to a medium size frying pan over medium-high heat. Once the oil begins to lightly smoke, turn the head down to medium and add in the steak and cook for 3-4 minutes per side or until browned and the desired internal temperature is achieved.
Set the steak aside and add the onions and garlic to the frying pan and cook for 2-3 minutes or until very lightly browned.
Next, add in the whipping cream and cook over low heat until it becomes very thick, like an Alfredo sauce.
Whisk in the blue cheese until the sauce is smooth and then mix in the spinach and sun-dried tomatoes. Season with salt and pepper.
Toss the cooked pasta in the sauce until coated and serve with the cooked steak. Finish by sprinkling on breadcrumbs and more crumbled blue cheese.