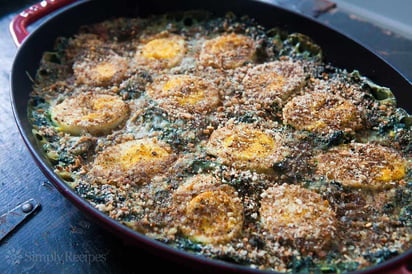 Spinach Gratin with Hard Boiled Eggs Recipe
Ingredients
(12)
3 pounds of fresh spinach, cleaned (or 24 ounces of frozen spinach, thawed and drained)

2 cups of milk

2 tablespoons butter

2 tablespoons flour

1/2 teaspoon freshly grated nutmeg, or 3/4 teaspoon of ground nutmeg if you aren't starting with a whole nutmeg

1/8 teaspoon freshly ground black pepper or more to taste

1/4 cup grated Gruyere cheese (about 1 ounce)

6 hard boiled eggs*

3 to 4 Tbsp seasoned bread crumbs**

Extra virgin olive oil

*To hard boil eggs, place eggs in a 2-quart saucepan and cover with at least an inch of cold water. Bring the water to a boil, remove the pan from heat, and cover. Let sit for 10-12 minutes, covered. Then run under cold water to keep from overcooking. Crack the shells while the eggs are still under water and let sit for a while to cool before peeling.:

**To make your own bread crumbs, take a few slices of day old bread and toast either in a toaster or in the oven until browned, then pulse in a food processor or blender until you have crumbs. Stir in a little herbes de Provence or Italian seasoning and a little salt to taste.:
Ingredient Facts and Health Benefits
Discover fascinating facts and health benefits about some of the ingredients in the recipe, including other delicious recipes!