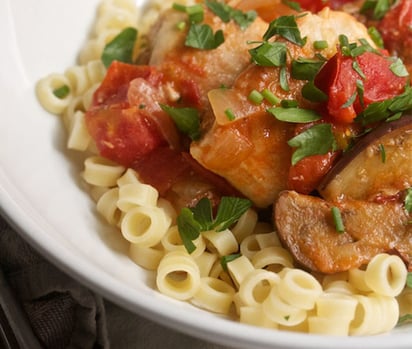 Chicken with Eggplant
Ingredients
(14)
1/2 cup Almond Breeze Unsweetened Original Almondmilk

About 1 cup small pasta shapes (or make rice or just serve with bread)

3 boneless skinless chicken breasts (about 1 1/2 pounds)

Salt

About 1/2 cup all-purpose flour

Freshly ground pepper

Olive oil

2 medium eggplant - trimmed and cut into large pieces

1 medium onion - chopped

1/2 minced jalapeño - seeds removed

3 minced garlic cloves

1 large tomato - cut into a large dice

2 teaspoons cider vinegar

A few minced chives and/or parsley leaves
Ingredient Facts and Health Benefits
Discover fascinating facts and health benefits about some of the ingredients in the recipe, including other delicious recipes!
Directions
Boil water for the pasta. When it's ready, salt well and add the pasta, cooking according to package directions. Drain, toss with a little olive oil, and set aside.
Cut the chicken breasts into 3 pieces each. Season the chicken pieces generously on both sides with lots of salt and pepper. Place the flour on a plate or shallow bowl, and dip the the chicken pieces in, then shake off the excess.
Set a large skillet over high heat for 5 minutes, until very hot. Pour in enough oil to coat the surface, then turn the heat down to medium-high. Brown the chicken until golden on each side, 4 to 5 minutes per side. Be sure not to crowd the pan—better to do this in two batches. Remove to a plate. (Don't taste the chicken, it's likely not fully cooked).
Add a little more oil, then add the eggplant pieces and cook until brown, 3 minutes, then flip and cook another 3 minutes. Sprinkle with salt, then push the eggplant to the side and add add the onions, pepper, and garlic, and continue cooking until the eggplant and the onions are soft, 2 to 5 minutes. Add the tomato and cook another minute or two, til it releases its juices.
Return the chicken to the pot, then add the almond milk. Bring to a boil, then lower the heat to medium-low and cook until thickened and the chicken is done, about 5 minutes. Drizzle on the vinegar, and taste for salt. Serve over the pasta and garnish with minced chives.