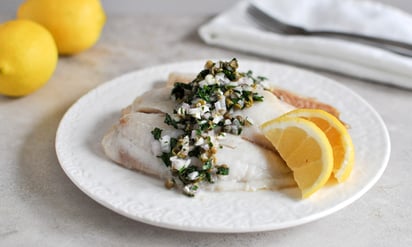 Baked Fish with Salsa Verde
A super-easy fish recipe dressed up with a sauce of shallots and garlic.
Ingredients (10)
4 Tilapia Fillets, 6–8oz ea
5½ tsp Olive Oil
¼ tsp Salt
1 tsp Freshly Ground Black Pepper
2 T Chopped Parsley
1 T Minced Shallot
1½ tsp Capers
1 Garlic Clove
1 tsp Fresh Lemon Juice
or 1 tsp Bottled Lemon Juice
½ tsp Anchovy Paste (optional)
Directions
Preheat oven to 375F.
Place fish in shallow baking dish, drizzle with 1 teaspoon oil and season with salt and pepper.
Bake fish 10 to 12 minutes, until it flakes easily with a fork.
To make salsa verde, combine remaining oil, parsley, shallots, capers, garlic, lemon juice and anchovy paste (if using) in a small bowl.  Season with salt and pepper. Place baked fish fillets on serving dish and spoon salsa verde on top of each.