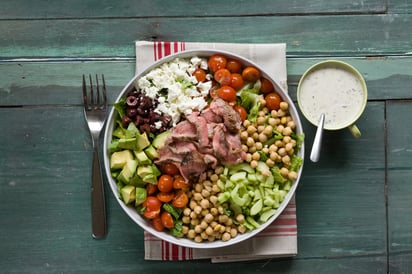 Chopped Greek Steak Salad with Yogurt-Lemon Dressing
This Cobb-inspired salad features a homemade, creamy yogurt dressing—leftovers double as a fantastic dip for your choice of veggies or protiens!
Ingredients (19)
Dressing
⅔ cup Plain Nonfat Greek Yogurt
1 Garlic Clove
1 T Lemon Zest
2 T Extra Virgin Olive Oil
3 tsp Red Wine Vinegar
½ tsp Dried Thyme
¼ tsp Salt
¼ tsp Freshly Ground Black Pepper
Steak
12 oz Ribeye Steaks
or 12 oz Top Sirloin Steaks
¼ tsp Salt
1 tsp Freshly Ground Black Pepper
Salad
4 cup Chopped Romaine Lettuce
¼ cup Chopped Parsley
1 Cucumber
1 pnt Cherry Tomatoes
14 oz Canned Chickpeas
1 Avocado
¼ cup Pitted Kalamata Olives
3 oz Feta Cheese
Directions
To make dressing, whisk yogurt, garlic, lemon zest, olive oil, vinegar, thyme, salt and pepper in a small mixing bowl until smooth. Thin with up to 3 tablespoons of water so it dribbles off a spoon. Let stand at room temperature at least 15 minutes to develop flavors. (Can be made up to 2 days in advance and stored in the refrigerator.) Makes 1 cup.
To prepare steak, preheat a gas or charcoal grill for high heat, pat steak dry and season with salt and pepper. Grill 4 to 5 minutes per side for medium-rare. Transfer to a plate and let rest 10 minutes before slicing into thin strips.
To prepare salad, make a bed of romaine on a large serving platter and sprinkle on parsley. Arrange cucumber, tomato, chickpeas, avocado, olives and feta in mounds, and place steak strips in center. Serve with a large spoon for guests to make their own mix and pass dressing on the side.