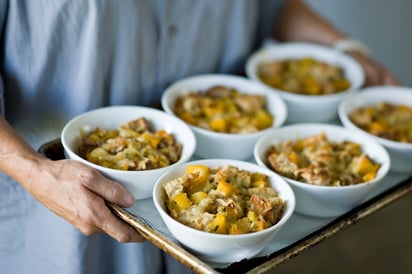 Butternut Squash and Cheese Panade
Perfect as a vegetarian main dish or as a hearty side.
Ingredients (10)
10 Multigrain Bread Slices
or 10 Whole Wheat Bread Slices
2 Sweet Onions
1 lb Butternut Squash
2 T Extra Virgin Olive Oil
1 T Chopped Sage
or 1 tsp Dried Sage
2 tsp Chopped Thyme
or ½ tsp Dried Thyme
1¼ tsp Salt
1 tsp Freshly Ground Black Pepper
4 cup Low Sodium Chicken Broth
or 4 cup Low Sodium Vegetable Broth
6 oz Gruyere Cheese
or 6 oz Swiss Cheese
Directions
Preheat oven to 350F.
Tear bread into 1-inch pieces and bake until crisp, stirring once, 10 to 12 minutes.
Increase oven temperature to 400F.
Combine onion and squash in a large bowl. Add oil, sage, thyme, salt and pepper. Toss well. Arrange in a single layer on a baking sheet. Roast until onions begin to brown and squash is fork tender, 22 to 25 minutes.
Coat a 13 x 9-inch baking dish or 12 (1-cup) or 6 (2-cup) ovenproof bowls or ramekins with cooking spray. Place bread in a single layer in the bottom of pan. Distribute half the squash mixture over bread. Sprinkle on half the cheese. Repeat layers.
Slowly pour in 2 cups broth over top, allowing bread to soak up broth and pressing with the back of a spoon. Add remaining broth until it reaches 1 inch below the pan's rim.
Reduce oven heat to 375F.
Cover pan with aluminum foil and place it on a baking sheet to catch drips. Bake, covered, 30 minutes. Remove foil and bake 35 to 45 minutes, until bubbling, puffed and golden brown. Let stand 5 minutes before serving.