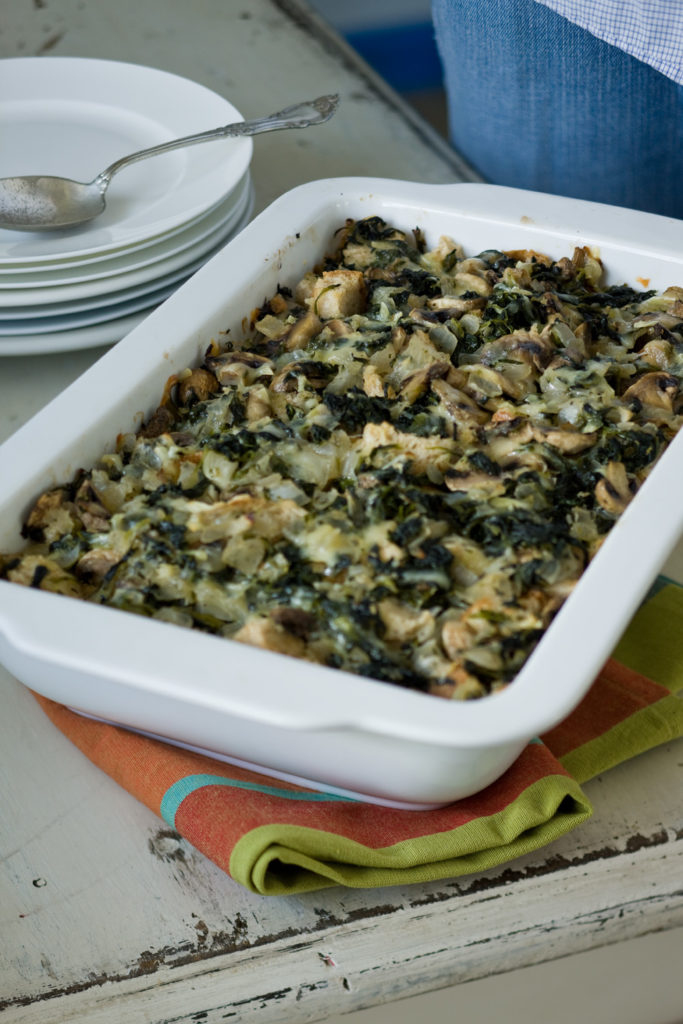 Spinach and Mushroom Panade
A meatless main dish for brunch, lunch or supper. Or try it in place of traditional stuffing or dressing for your Thanksgiving meal.
The chewier the bread the better, so seek out a good artisan loaf.
Ingredients (16)
12 oz Sourdough Bread
1 T Extra Virgin Olive Oil
1 T Butter
2 Yellow Onions
1 lb Mushrooms
2 Garlic Cloves
¼ cup Dry White Wine
1 T Minced Thyme
or 1 tsp Dried Thyme
1½ tsp Salt
1 tsp Freshly Ground Black Pepper
16 oz Frozen Chopped Spinach
1½ cup Grated Gruyere Cheese
or 1½ cup Grated Swiss Cheese
4 cup Low Sodium Chicken Broth
or 4 cup Low Sodium Vegetable Broth
Directions
Preheat oven to 350F.
Tear bread into 1-inch pieces and toast on a baking sheet until lightly browned, stirring once, 12 to 15 minutes.
Heat oil and butter over medium heat in a 12-inch saute pan or skillet. When butter melts, add onions and cook 10 minutes. Increase heat to medium-high; add mushrooms, garlic, wine, thyme, salt and pepper. Cook until liquid evaporates and mushrooms shrink, 10 to 15 minutes. Stir in spinach.
Coat a 13 x 9-inch baking dish with cooking spray. Place half the bread in pan. Distribute half the onion mixture over bread and sprinkle on half the cheese. Repeat layers.
Slowly pour 2 cups broth over top, allowing bread to soak up broth and pressing with the back of a spoon. Add remaining broth until it reaches 1 inch below the pan's rim.
Cover pan with aluminum foil and place on a baking sheet to catch drips. Bake, covered, 30 minutes. Remove foil and bake 35 to 45 minutes, until bubbling, puffed and deep golden brown. Let stand 5 minutes before serving.