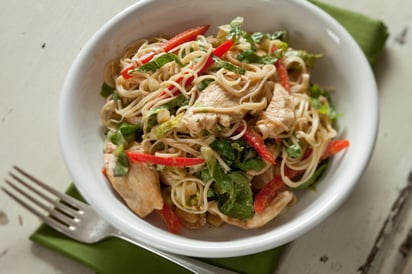 Chinese Chicken and Noodle Salad with Peanut Sauce
A main-dish salad featuring a hearty Asian-inspired blend of ingredients.
Look for Chinese egg noodles in the international section of the supermarket, or use two packages of ramen noodles, discarding the seasoning packets. A basic creamy processed peanut butter (like Jif or Skippy) works best here.
Ingredients (12)
1 lb Boneless, Skinless Chicken Breast
1 T Vegetable Oil
6 oz Chinese Egg Noodles
⅓ cup Reduced Fat Creamy Peanut Butter
1½ T Red Wine Vinegar
1½ T Dry Sherry
3 T Soy Sauce
1½ T Sugar
5 oz Romaine Lettuce Head
1 Red Bell Pepper
1 cup Diced Cucumber
6 Green Onions
Directions
Cut chicken breasts crosswise into thin slices.
Heat oil in large, nonstick skillet over high heat. Add chicken and sauté about 3 minutes or until chicken is thoroughly cooked.
Cook noodles according to package directions. Drain in colander and let cool.
Whisk together peanut butter, vinegar, sherry, soy sauce, water and sugar in a small bowl.
Stack Romaine lettuce leaves. Roll up into a long cylinder (like a cigar). Slice across the roll to form thin strips.
Toss noodles with chicken and peanut butter mixture in a large bowl. Add bell pepper, cucumber, green onions and lettuce; toss to combine well.