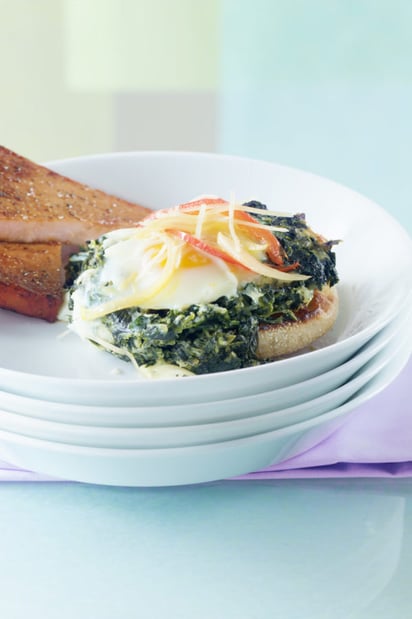 Oven-Poached Eggs in Spinach Nests
Prepare the spinach nests up to two days ahead for an easy egg brunch dish.
Ingredients (12)
Spinach Nests
¼ oz Cooking Spray
3 Eggs
½ cup All Purpose Flour
or ½ cup Matzo Meal
16 oz Small Curd Cottage Cheese
40 oz Frozen Chopped Spinach
½ tsp Salt
1 tsp Freshly Ground Black Pepper
Eggs
8 Large Eggs
1 cup Shredded Swiss Cheese
or 1 cup Shredded Parmesan Cheese
4 English Muffins
or 4 cup Brown Rice
or 4 cup Cooked Barley
or 4 Prepared Potato Pancakes
½ cup Roasted Red Bell Pepper Strips (optional)
½ cup Sliced Onion (optional)
Directions
Preheat oven to 350F. Coat a 13-by-9-inch baking dish with cooking spray.
To prepare the spinach nests, combine eggs, flour and cottage cheese; whisk well. Add spinach, salt and pepper; stir well. (This can be done up to 2 days ahead). Press mixture into prepared dish. Make 8 indentations with the back of a spoon (this is where the eggs will later be placed). Bake 25 minutes.
Remove from oven and using a spoon, hollow the nests out even more deeply. Break an egg into each indentation. Bake 15 minutes or until whites are set. Sprinkle with cheese. Bake 1 minute.
Place 1 egg and spinach nest on English muffin half. Garnish with slivered red pepper and onion, if desired.