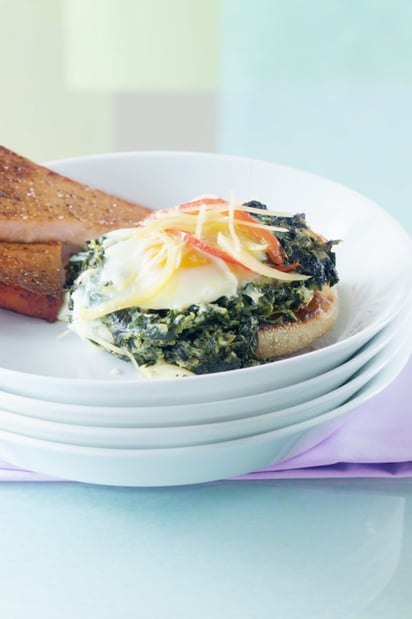 Oven-Poached Eggs in Spinach Nests
Prepare the spinach nests up to two days ahead for an easy egg brunch dish.
Ingredients
(14)
Spinach Nests:

Cooking spray

3 eggs

1/2 cup all-purpose flour

1 pound small-curd cottage cheese

4 (10-ounce) boxes frozen chopped spinach, thawed and well-drained

1/2 teaspoon salt

Freshly ground black pepper

Eggs:

8 large eggs

1 cup shredded Swiss or Parmesan cheese

4 English muffins, split and toasted

1/2 cup slivered red bell pepper, optional

1/2 cup slivered onion, optional
Ingredient Facts and Health Benefits
Discover fascinating facts and health benefits about some of the ingredients in the recipe, including other delicious recipes!
Directions
Preheat oven to 350F. Coat a 13-by-9-inch baking dish with cooking spray.
To prepare the spinach nests, combine eggs, flour and cottage cheese; whisk well. Add spinach, salt and pepper; stir well. (This can be done up to 2 days ahead). Press mixture into prepared dish. Make 8 indentations with the back of a spoon (this is where the eggs will later be placed). Bake 25 minutes.
Remove from oven and using a spoon, hollow the nests out even more deeply. Break an egg into each indentation. Bake 15 minutes or until whites are set. Sprinkle with cheese. Bake 1 minute.
Place 1 egg and spinach nest on English muffin half. Garnish with slivered red pepper and onion, if desired.