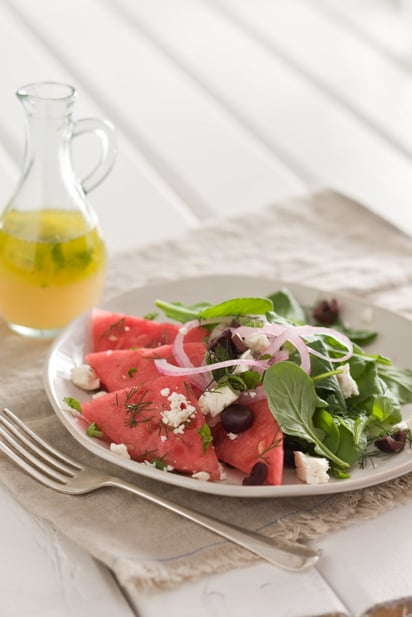 Feta Watermelon Salad
This colorful salad speaks of summer freshness with tangy feta counterbalancing the airy, sweet melon.
Try a mix of yellow and red watermelon for even more flair.
Ingredients (10)
½ Red Onion
2 Limes
1 lb Watermelon
1 T Honey
¼ tsp Salt
¼ tsp Freshly Ground Black Pepper
¼ cup Olive Oil
4 oz Feta Cheese
2 oz Kalamata Olives
1 Arugula Bunch
Directions
Place onion slices in a bowl and cover with lime juice. Set aside.
Trim watermelon and slice into thin triangles.
Remove onion from lime juice. Add honey, salt and pepper to juice; stir until well blended. Whisk in oil in a steady stream.
Layer arugula on platter or divide arugula among 6 plates. Arrange watermelon in overlapping layers on platter or plates. Top with onion, herbs, feta and olives. Drizzle with half of lime juice mixture. Pass remaining juice mixture on the side.