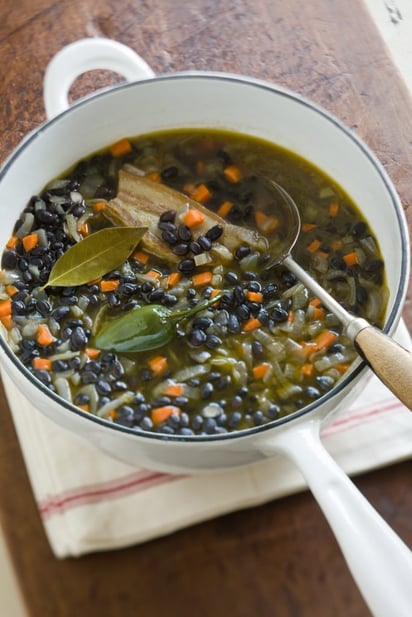 Black Beans with Chiles
Transform humble black beans into a spectacular side—or filling—or just about any Mexican-style dish.
These beans are the perfect side to cheese quesadillas, tacos or enchiladas. Add extra broth and purée the beans until they're creamy for a black bean soup, if preferred.
Ingredients (10)
1 lb Dried Black Beans
1 Red Onion
1 Carrot
2 Serrano Chiles (optional)
or 1 Jalapeño Pepper
2 Dried Bay Leaves
or 2 Fresh Bay Leaves
1 T Ground Cumin
¼ lb Bacon
4¼ cup Low Sodium Chicken Broth
½ tsp Salt
1 tsp Freshly Ground Black Pepper
Directions
Rinse beans. Place beans in a large bowl or Dutch oven. Cover with water by several inches. Let soak overnight.
Place bacon, onion and carrot in a Dutch oven. Cook until bacon is crisp and onion is tender. Drain beans and add to pan. Add whole chiles, bay leaves, cumin, chicken broth, salt and pepper. Bring to a boil, reduce heat and simmer, covered, 1 hour. Uncover and simmer until beans are very tender, about 15 minutes. Remove and discard bay leaves and chiles.