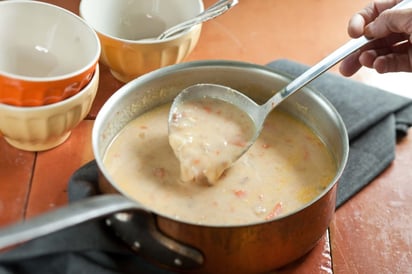 Potato Cheese Soup with Ham
Ham, cheese, potato—like a loaded baked potato in a soup bowl.
This soup is super versatile -- use any kind of cheese, or use dry white wine instead of beer. Any kind of milk will work, too.
Ingredients (10)
2 T Butter
4 oz Chopped Lean Ham
1 cup Chopped Onion
1 cup Chopped Carrot
3 lb Russet Potato
or 3 lb Yukon Gold Potatoes
3 cup Low Sodium Chicken Broth
1 cup Beer
3 oz Gruyere Cheese
3 oz Cheddar Cheese
½ cup 2% Milk
Directions
Melt butter in a large saucepan over medium heat. Add ham, onion and carrot. Saute to 10 minutes. Cook, covered, 10 minutes. Add potatoes and broth; cover and simmer 20 minutes or until potatoes are tender.
Pour half the soup into a food processor and process until smooth. Return to saucepan. Add beer and cheese and cook until cheese melts. Add milk until desired consistency is reached.