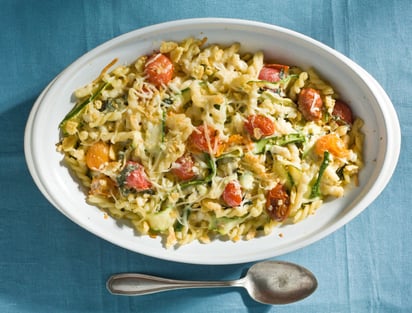 Fresh Summer Squash Casserole
Colorful, peak-season vegetables meld with pasta in the cheesy, creamy casserole.
Whole-milk ricotta makes this casserole extra creamy, but the part-skim variety will work just as well.
Ingredients (14)
2 T Olive Oil
3 cup Cherry Tomatoes
or 3 cup Grape Tomatoes
3 Garlic Cloves
12 oz Whole Milk Ricotta Cheese
or 12 oz Part Skim Ricotta Cheese
6 oz Feta Cheese
½ cup 2% Milk
12 oz Dried Gemelli Pasta
or 12 oz Penne Pasta
2 Whole Zucchini
½ cup Chopped Basil
½ cup Crushed Saltine Crackers
or ½ cup Ritz Cracker Crumbs
1 T Butter
8 T Grated Parmigiano Reggiano Cheese (optional)
1 tsp Salt
1 tsp Freshly Ground Black Pepper
Directions
Preheat oven to 350F.
Heat oil in a large skillet. Add tomatoes and sauté over medium heat until browned, about 10 minutes. Add chopped garlic, salt and pepper. Cook 1 minute.
Combine ricotta, feta and milk in a large mixing bowl; stir well. Add cooked pasta, tomatoes, zucchini, cheese mixture and basil; stir gently.
Transfer to a 2-quart casserole dish. Top with cracker crumbs. Sprinkle butter evenly over top. Sprinkle with Parmigiano Reggiano, if using. Cover and bake 30 to 40 minutes or until hot and bubbly.