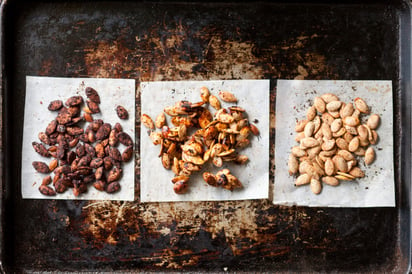 Roasted Pumpkin Seeds
Crunchy pumpkin seeds get dressed up in your choice of mole spice, sweet and salty or spicy herbed flavor blends.
Ingredients (17)
Mole Spice Blend
3 T Brown Sugar
1 tsp Cinnamon
1 T Ancho Chili Powder
3 T Cocoa Powder
1 T Freshly Ground Coffee Beans
2 T Butter
½ tsp Kosher Salt
Sweet And Salty Blend
2 T Butter
3 T Brown Sugar
½ tsp Kosher Salt
½ tsp Ground Cinnamon
Spicy Herb Blend
1 T Chipotle Chili Powder
½ T Onion Powder
2 T Sesame Oil
1 T Dried Parsley
½ tsp Kosher Salt
Pumpkin Seeds
Directions
Dry 2 cups of pumpkin seeds in 300F oven for 30 minutes; remove and increase temperature to 350F.

Toss seeds with your choice of seasonings and roast at 350F for 15 minutes or until fragrant and crisp.