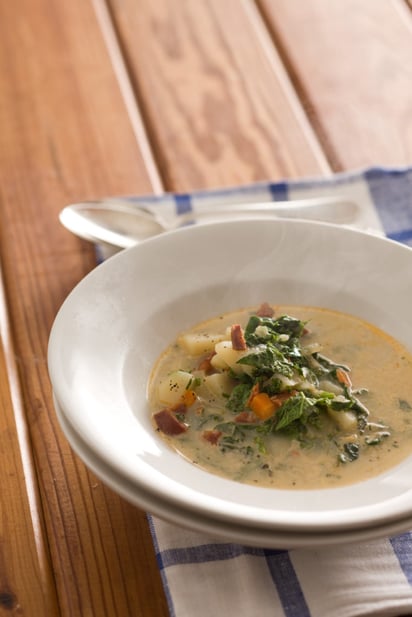 Creamy Braising Greens Soup
Who says soup isn't for spring? This hearty bacon and sausage soup makes the very best of in-season greens.
Ingredients (13)
1 Thick Cut Bacon Strip
1 Onion
1 Carrot
2 Garlic Cloves
½ lb Dried Spanish Chorizo
or ½ lb Smoked Sausage
6 Whole Potatoes
7½ cup Low Sodium Chicken Broth
1¼ cup Chopped Kale
1¼ cup Swiss Chard
or 1¼ cup Mustard Greens
or 1¼ cup Dandelion Greens
½ cup Heavy Cream
½ tsp Kosher Salt
½ tsp Hot Sauce (optional)
1 tsp Freshly Ground Black Pepper
Directions
Saute bacon in a large pot or Dutch oven over medium heat until crisp. Remove bacon with a slotted spoon and set aside, reserving drippings in pan. Crumble bacon when cool.
Add onion and carrot to pan; cook over medium heat until soft and translucent, stirring occasionally. Add garlic and sausage; cook, stirring frequently, until sausage is lightly browned, 5 to 8 minutes.
Add potatoes and broth; stir to combine. Bring to a boil over medium heat. Reduce heat and simmer, uncovered, stirring occasionally, until potatoes are fork tender, about 15 minutes.
Add greens, cream and salt and continue to simmer until soup is thoroughly heated, about 5 minutes. Add hot sauce, if using, and black pepper to taste.
Ladle into soup bowls and garnish with reserved bacon.