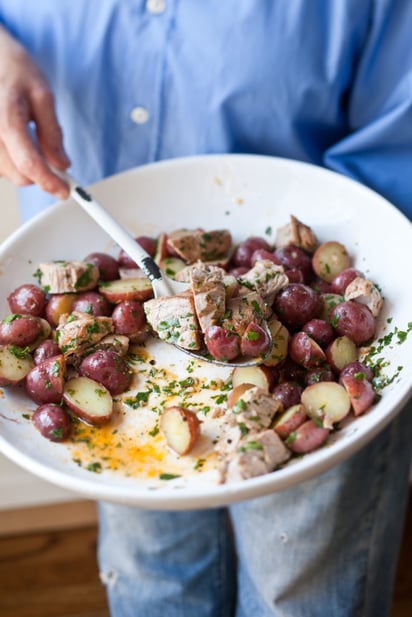 Seared Tuna with Lemony Potatoes
Tuna goes farther—and is simpler to eat—when it's chunked and mixed with potatoes.
Tossing in a tablespoon of capers would be a lovely addition.
Ingredients (10)
2 Tuna Steaks, 6–8oz ea
¼ cup Olive Oil
1 T Hot Sauce
or 1 T Tabasco Sauce
2 Garlic Cloves
½ tsp Salt
1 tsp Freshly Ground Black Pepper
10 Red Potatoes
1 Lemon
¼ cup Chopped Flat Leaf Parsley
1 T Capers (optional)
Directions
Rinse tuna steaks and pat dry. Combine olive oil, hot sauce and garlic in a measuring cup. Pour half the mixture into a shallow baking pan, reserving remaining sauce. Add tuna to pan and let stand 1 hour, turning halfway though the marinating time.
Preheat grill to high.
Remove tuna from marinade and sprinkle with salt and pepper. Discard marinade. Grill tuna 3 to 4 minutes per side, until desired degree of doneness.
Place hot boiled potatoes in a bowl. Break tuna into chunks and add to potatoes. Add lemon rind and juice, parsley and reserved sauce. Toss and serve.